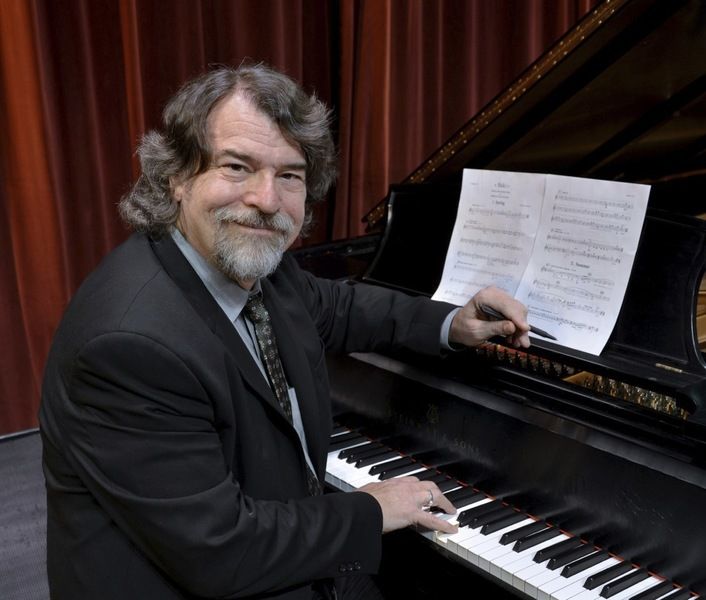 Meet Chris Brubeck
Composer
The third son in the musical Brubeck family, Chris was born in 1952. He is a composer, lyricist, orchestral arranger, musical educator, and performer who plays bass, trombone and piano. Like his brothers, he feels at home playing jazz, rock, folk, funk and classical music.
Like the rest of the family, Chris was exposed to, and learned from, many legendary jazz musicians. When he was a youngster and just starting to play trombone, Dave took him backstage to meet Louis Armstrong. Armstrong looked at Chris' ample lips and said "You've got the chops" for the trombone." Chris remembers, "When he said that, I just felt like, it's really cool, like Willie Mays telling me I can be an outfielder."
Of all the Brubeck's musical sons, Chris has toured and recorded with Dave the most. In addition to his two years with the Two Generations of Brubeck (with Dave and brothers Darius and Dan), he was a full fledged member of the Dave Brubeck Quartet for over ten years, toured the world, recorded over a dozen albums and appeared on countless television programs.
During his time with the Quartet, Chris collaborated with his father on the symphonic composition, Theme and Explorations for Orchestra, which was commissioned by the Pittsburgh Symphony.
In the past decade, Chris has branched out on his own, performing, recording and composing in various musical styles. Bach to Brubeck (Koch International) is the culmination of years of successful orchestral concerts given by Chris, Joel Brown and the late Bill Crofut. The trio collaborated with the London Symphony Orchestra for the record. Chris and Bill Crofut also produced Across Your Dreams (Telarc) with Frederica von Stade singing many of Chris, Dave, and Iola Brubeck's original songs.
In addition, Chris has become prolific as a composer. He was the soloist and composer for his original Concerto for Bass Trombone and Orchestra. This work has created a stir in classical music circles, with performances by The Pittsburgh Symphony, The Baltimore Symphony, The Boston Pops, and at The International Trombone Festival.
Chris also co-leads the straight ahead jazz group, The Brubeck Brothers Quartet with his brother Dan Brubeck, giving concerts all throughout North America. In 2000 the Brubeck Brothers Quartet, featuring Chris, Dan on drums, Mike DeMicco on guitar and Pete Levin on keyboards released their first recording, Second Nature which is available on the website, www.brubeckmusic.com.
In addition, Chris tours with his other band, Triple Play, a group that features Chris on bass, trombone and piano, harmonica virtuoso Peter Madcat Ruth and Joel Brown on guitar. The trio a bluesy, folksy acoustic group with vocals and original compositions by all three members. Their first CD, Triple Play Live came out in 2000. Other commissions as a composer include compositions for the Aspen Wind Quintet and the Manhattan Chorale Festival. In the summer of 2001, Chris wrote a new Concerto for Orchestra to kick off the 2001 season for The Boston Pops. It received very favorable reviews. Chris also teaches musical at Skidmore College.
Choral Director Approved
We are choir directors, we get choir directors. 
Church Choir Friendly
Your choir will love our music!
Updated Catalog
We update our catalog twice a year!