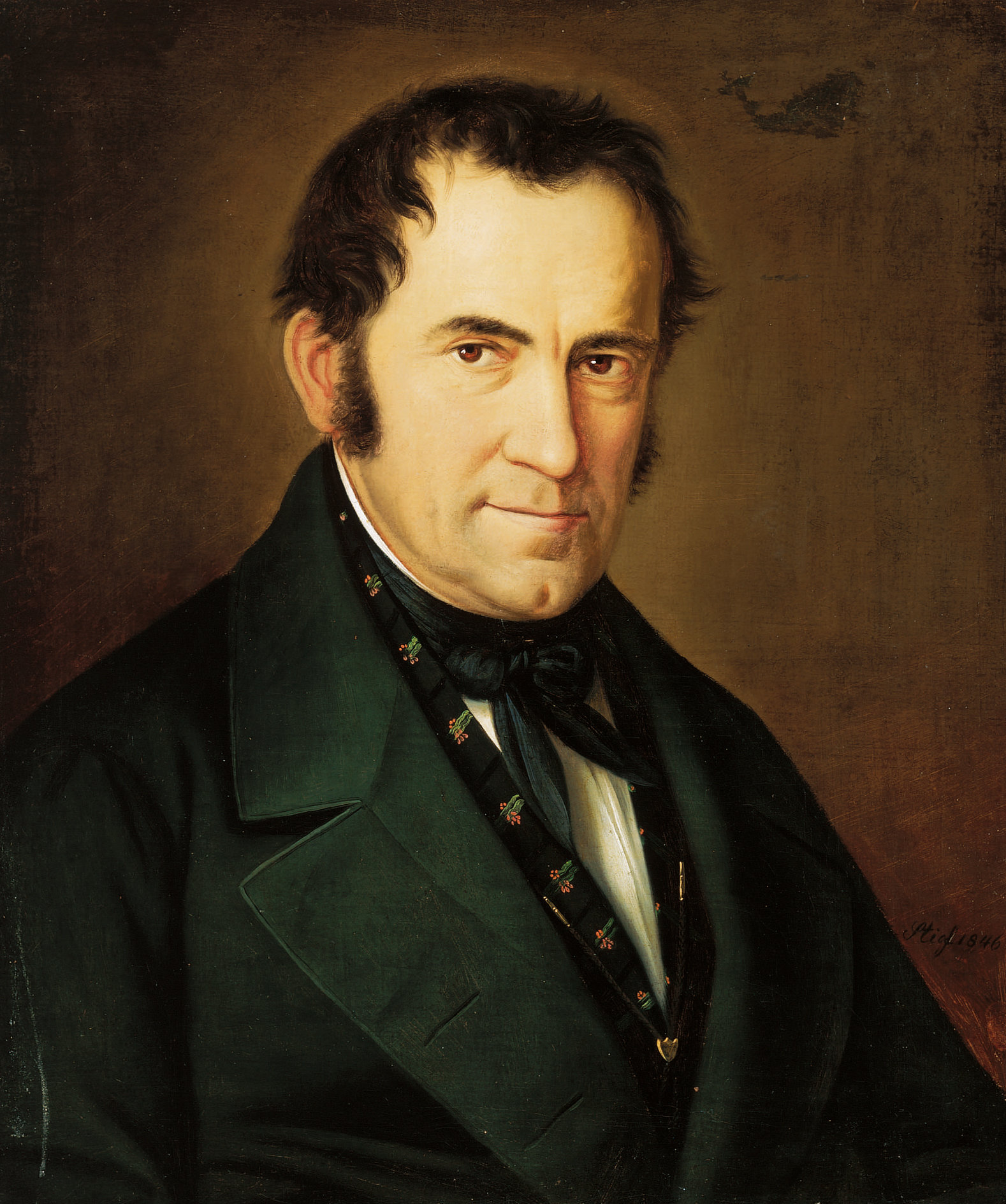 Meet Franz Gruber
Composer
Franz Xaver Gruber was born in Hochberg, Austria, the son of a poor weaver whose intentions were that his son would follow in the family trade. As the young Franz Gruber came of age he discovered that his true interest was in music, and he cultivated it by taking music lessons in secret from organist Georg Hartdobler at the parish church in Burghausen. When Hartdobler died, Gruber replaced him in the post. In 1807 Gruber accepted a teaching post in Arnsdorf where he served also as organist and sexton, and from 1816 Gruber also filled in from time to time in the frequently vacant organ loft at the church at St. Nikolaus in Oberndorf. In Oberndorf Gruber met Friar Joseph Mohr (1792 – 1848), who was serving as an assistant pastor at St. Nikolaus and adept at writing sacred poetry. Mohr may have contributed the text to the German Te Deum which Gruberset in February 1818.
According to Gruber, on December 24, 1818 Mohr provided him with the poem "Stille Nacht! Heilige Nacht!" along with the request that Gruber set it for two voices, chorus, and guitar. Gruber finished the work that same day, and Silent Night, arguably the most popular of all sacred Christmas carols, was heard for the first time during Midnight Mass at St. Nikolaus. The congregation received the piece with "great applause," but the long journey of Silent Night throughout the world did not begin until the following year, when organ builder Karl Mauracher visited St. Nikolaus to perform routine repairs on the organ and came away with a copy of Silent Night. Mauracher introduced the song to two well-known groups of Austrian "family singers" based in the Ziller Valley, the Rainers and the Strassers. These singers would spread Silent Night throughout the world; the Rainers sang it in Russia as early as 1822 at the request of Tsar Alexander I, and in 1839 the Strassers introduced the carol to the United States.
Although Silent Night made its way into print in 1819, some believed it to be a traditional Tyrolean folk song of no traceable lineage, although certain sources attributed the melody to Michael Haydn. Gruber kept silent about the matter until 1855, when he published a corrected version of Mohr's text and the original melody under his own name for the first time. In the interim he had moved on from Oberndorf "due to territorial changes" to teaching positions in Laufen and later Bergdorf, finally settling down in 1833 to a post as choir-director and organist at the parish-church in Hallein until his death at the age of 76.
Gruber was a prolific composer. A thematic catalog of his manuscripts published in 1989 claims more than 60 masses for Gruber, plus more than two dozen additional liturgical settings and about 35 songs both sacred and secular. Gruber also wrote dance music and made copious amounts of arrangements of popular melodies taken from operas. But out of all this activity, it is Silent Night that truly prevails, and it has paid off handsomely for Gruber: there are museums dedicated to him in Arnsdorf and Hallein, and a chapel built in honor of Silent Night itself opened in Oberndorf in 1937.
Choral Director Approved
We are choir directors, we get choir directors. 
Church Choir Friendly
Your choir will love our music!
Updated Catalog
We update our catalog twice a year!