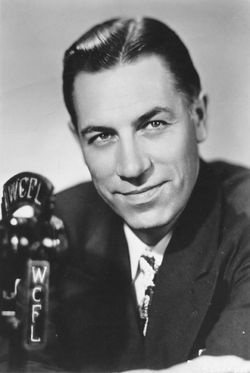 George Beverly Shea
Composer
Gospel vocalist George Beverly Shea spent most of his 45-year career closely associated with evangelist Billy Graham. His best-known song is "How Great Thou Art," which was written by Rev. Stuart K. Hine in the 1920s. Shea is also a distinguished writer of popular hymns such as "The Wonder of It All."
Born the son of a Wesleyan Methodist minister in Winchester, Ontario, Shea was raised in the New York area and spent much time as a youth singing in church choirs. Following high school, he briefly attended Houghton College in New York, dropping out only after his family's financial difficulties necessitated it. Shea began working as a clerk, but received voice lessons and sang in churches and on local religious radio stations. The latter led to an audition for the Lynn Murray Singers, but he declined their invitation since they sang secular music. He married his high-school sweetheart in 1934 and moved to Chicago. After ten years in the Windy City, Shea got national exposure when he was hired to appear on Club Time, a show he sang with for the next eight years. During this time, Shea also became prominent in the Youth for Christ movement of the 1940s and '50s. He hooked up with Graham in 1947 and signed to RCA Victor in 1951. Southland Favorites received a 1965 Grammy for Best Gospel or Other Religious Recording (Musical). Shea was inducted into the Gospel Music Association Hall of Fame in 1978.
Choral Director Approved
We are choir directors, we get choir directors. 
Church Choir Friendly
Your choir will love our music!
Updated Catalog
We update our catalog twice a year!