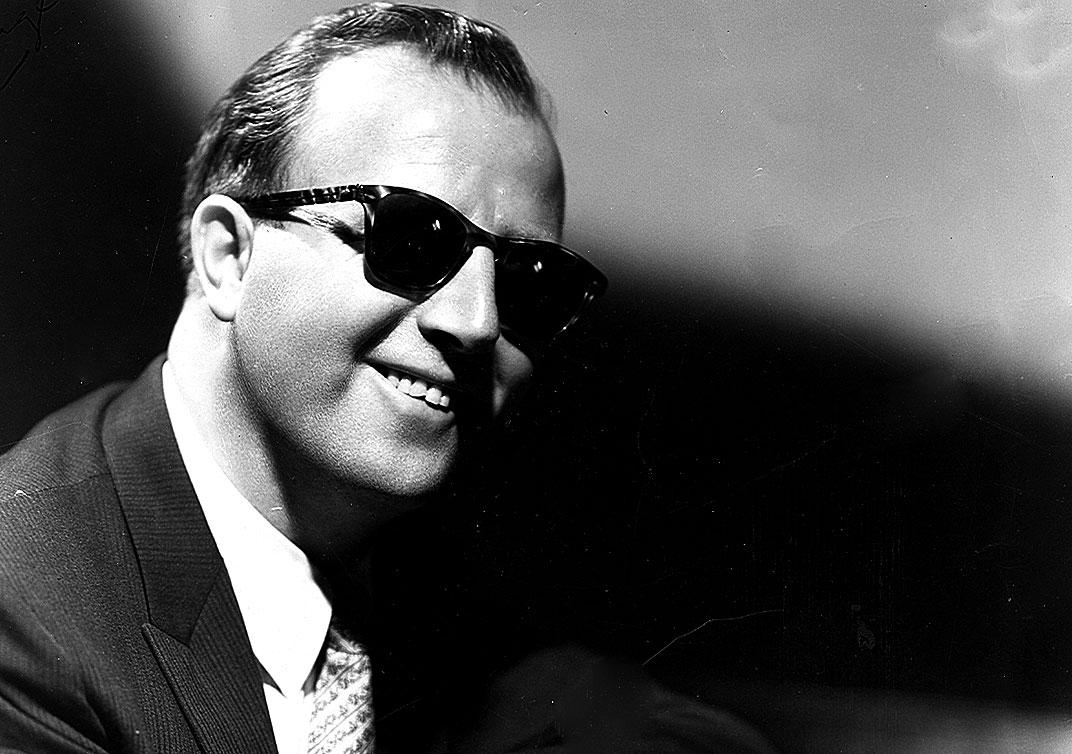 Meet George Shearing
Composer
George Shearing was born in 1919 in the Battersea area of London.  Congenitally blind, he was the youngest of nine children.  His father delivered coal and his mother cleaned trains at night after caring for the children during the day.  His only formal musical education consisted of four years of study at the Linden Lodge School for the Blind.  While his talent won him a number of university scholarships, he was forced to refuse them in favor of a more financially productive pursuit…playing piano in a neighborhood pub for the handsome salary of $5 a week!  Shearing joined an all-blind band in the 1930's.  At that time he developed a friendship with the noted jazz critic and author, Leonard Feather.  Through this contact, he made his first appearance on BBC radio.
In 1947, Mr. Shearing moved to America, where he spent two years establishing his fame on this side of the Atlantic.  The Shearing Sound commanded national attention when, in 1949, he gathered a quintet to record "September in the Rain" for MGM.  The record was an overnight success and sold 900,000 copies.  His U.S. reputation was permanently established when he was booked into Birdland, the legendary jazz spot in New York.  Since then, he has become one of the country's most popular performing and recording artist.  In 1982 and 1983 he won Grammy Awards with recordings he made with Mel Torme.  Mr. Shearing was the subject of an hour-long television documentary entitled "The Shearing Touch" presented on the Southbank Show with Melvyn Bragg on ITV in the UK.
Three presidents have invited Mr. Shearing to play at the White House.. Ford, Carter and Reagan.  He performed at the Royal Command Performance for Queen Elizabeth II and Prince Philip.  He is a member of the Friars Club and the Lotos Club in New York and the Bohemian Club in San Francisco.
His awards and honors are many.  In May 1975, he received an honorary degree of Doctor of Music from Westminster College in Salt Lake City.  In May of 1994, Hamilton College in upstate New York awarded him another honorary doctorate in music.  DePauw University in Greencastle, Indiana presented him with an honorary doctorate of music on June 1, 2002.  He received the prestigious Horatio Alger Award for Distinguished Americans in 1978 and a community recreational facility in Battersea, south London, was named the George Shearing Centre in his honor.  In May of 1993, he was presented with the British equivalent of the Grammy…the Ivor Novello Award for Lifetime Achievement.  In June of 1996, Mr. Shearing was included in the Queen's Birthday Honors List and on November 26, 1996 he was invested by Queen Elizabeth II at Buckingham Palace as an Officer of the Order of the British Empire for his "service to music and Anglo-US relations."  He was presented the first American Music Award by the National Arts Club, New York City, in March of 1998.
In 1999, his 80th birthday was celebrated in England where he played to a sold-out house at the Birmingham Symphony Hall.  Also appearing with him were the BBC Big Band, the strings of the London Symphony, Dame Cleo Laine and John Dankworth.  BBC Radio 2 presented a 2 1/2-hour "Salute to Shearing" in honor of his birthday.
The following year another sold-out house at Carnegie Hall was treated to his birthday celebration featuring the George Shearing Quintet with Nancy Wilson, Dave Brubeck, Dr. Billy Taylor, the John Pizzarelli Trio, Tito Puente and Peter Schickele who brought a special greeting from PDQ Bach!
Mr. Shearing's biography, "Lullaby of Birdland," published by Continuum, was released February 2005.  In conjunction with the autobiography release Concord Records released a composite of Shearing recordings in a 2-CD set entitled "Lullabies of Birdland.: A Musical Autobiography"  which was immediately followed up with  "Hopeless Romantics" with Michael Feinstein. Concord then released the collectors set Mel Tormé & George Shearing The Concord Years.
Mr. Shearing's popularity continues to rise. In November 2006, a letter arrived from the Prime Minister's office in London reading, in part, "The Prime Minister has asked me to inform you, in strict confidence, that …….he has it in mind, on the occasion of the forthcoming list of New Year Honors, to submit your name to The Queen with a recommendation that Her Majesty may be graciously pleased to approve that the honor of Knighthood be conferred upon you."  When the letter was read to him, George simply said, "I don't know why I'm getting this honor…..I've just been doing what I love to do." And, when asked by the press how he felt about receiving the highest honor the Queen can give, he replied, "My mind keeps flashing back on my beginnings as pianist playing in a pub for the equivalent of $5.00 a week.  What a journey it has been from that pub to Buckingham Palace.  Receiving such an honor as a Knighthood might also show young people what can be achieved in life if one learns his craft and follows his dreams."
So, the poor, blind kid from Battersea named George Shearing, the youngest of nine, whose father once delivered coal to the Palace, with four years of formal musical training but with a tremendous will to make good, traveled with his wife, Ellie, to London to claim his honor.  On June 13, 2007 George was presented to Queen Elizabeth II in the Ballroom of Buckingham Palace.  The Queen first touched him on each shoulder with the sword her father had used, then stepped down off the dais to put the medal around his neck, adjusted it, shook hands with him and talked to him for several minutes.  He became Sir George Shearing "for his contribution to music", as the Lord Chamberlain put it.  Now, that's a fairy tale come true!
After the ceremony, Sir George and Lady Shearing hosted a luncheon for some of their closest friends including Dame Cleo Laine and Sir John Dankworth, the BBC personality and interviewer, Michael Parkinson (who championed George's receiving a Knighthood on his radio and television shows), and the actress Julia McKenzie.
The following week, Sir George's relatives came to lunch…..including his 97-year-old sister, Dolly.  She was the life of the party….leading the Sing-Song between courses of the meal!  And the celebrations didn't stop there.  The Shearings hosted a tea for the member of Parliament and former Home Secretary, David Blunkett, along with the Dean of Canterbury, The Very Reverend Robert Willis.  Mr. Blunkett was also born blind and lived for ten years right next door to the Linden Lodge for the Blind.
And, the honors keep coming!  Back in New York, on October 21, 2007, the Town Hall Foundation presented Sir George with its Annual Friend of the Arts Award "in recognition and appreciation of his abiding interest in the development, enrichment and support of the arts".  With this award also came a medal plaque, bearing Sir George's name, being placed on the back of one the seats in the legendary Town Hall.
But, come July 1 every year, one can find the Shearings traveling from their New York City apartment up to the beautiful Berkshires near Tanglewood where, for the entire summer, they will attend concerts by the Boston Symphony, entertain their many friends (both in and out of the music profession), and, yes, listen to the crickets while sipping a glass of wine while simply enjoying life together.
Choral Director Approved
We are choir directors, we get choir directors. 
Church Choir Friendly
Your choir will love our music!
Updated Catalog
We update our catalog twice a year!