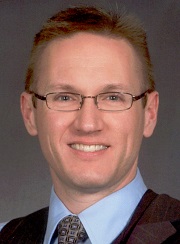 Meet Howard Helvey
Composer
Howard Helvey resides in Cincinnati, Ohio, where he is active as a composer, arranger and pianist, and serves as organist & choirmaster of historic Calvary EpiscopalChurch. Nationally and internationally he is in frequent demand as a composer, conductor, speaker, and member of the Steinbach/Helvey Piano Duo.
Known particularly for his choral music, Mr. Helvey maintains an extremely active writing schedule, and his hundreds of compositions and arrangements are published by numerous publishers. His compositions have been featured on numerous recordings, national television and radio broadcasts, in such eminent concert venues as New York's Carnegie Hall, the Walt Disney Concert Hall (LA), the Meyerson Symphony Center (Dallas), the White House, the National Cathedral (Washington, D.C.), and many locations throughout Europe and Asia. His music, which has been acclaimed as "engaging" (Choral Journal), "definitive" (Journal of the Association of Anglican Musicians), "magical" (The Hymn) and in response to his occasional inclusion of jazz elements "fun and certain to be of interest" (The Diapason). Mr. Helvey is commissioned frequently by church, university, and professional ensembles, and recent performance highlights have been presented by the Kansas City Chorale, Chicago a cappella, the Turtle Creek Chorale (Dallas), the Choir of St. Ignatius Loyola (New York), the Bach Society of Saint Louis, the Saint Louis Chamber Chorus, Kammerchor Constant (Cologne), Pro Musica (Copenhagen) and by numerous university/collegiate choirs. As a pianist, Mr. Helvey since 1997 has collaborated with distinguished artist Richard Steinbach in concerts and recordings of four-hand and two-piano literature.
A Missouri native, Mr. Helvey holds a Bachelor of Music degree in composition from the University of Missouri-Columbia and a Master of Music degree in composition and piano performance from the University of Cincinnati's College-Conservatory of Music. Designated an undergraduate Chautauqua Scholar, he pursued additional studies in piano at New York's Chautauqua Institution. Mr. Helvey has studied piano with Raymond Herbert, Jan Houser, Richard Morris and Dolores Gadevsky; and his composition teachers have included John Cheetham, Thomas McKenney, Darrell Handel and Frederick Bianchi. As one passionate about effective congregational hymn-singing, Mr. Helvey received additional training in hymn-accompanying and organ improvisation from Gerre Hancock.
Choral Director Approved
We are choir directors, we get choir directors. 
Church Choir Friendly
Your choir will love our music!
Updated Catalog
We update our catalog twice a year!