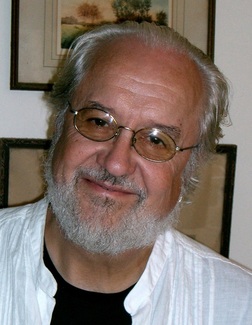 Meet Roger Ames
Composer
Roger Ames, Pulitzer Prize nominated composer, has written Martin Guerre for the Hartford Stage, Mark Lamos, director, and Laura Harrington, book and lyrics. While in residence at the Roundhouse Theater in Washington, D.C., he wrote several musicals for the company, one of which, Magical Touch, was done in the London Fringe and by the Berkshire Ensemble For Theater Arts in Williamstown, Massachusetts.
He has written original music for off-Broadway plays, and composed a number of operas commissioned by Central City Opera, Utah Opera, Boston Lyric Opera and Broadway Cares / Equity Fights Aids. He has won composition prizes from the International Clarinet Society, the Children's Aid Society of New York, the Boston Metro Opera's contemporary music festival, and the American Chamber Players.
Recently he premiered his music theater collage, Take Joy at the Strathmore Music Center in Washington, with lyricist, Elizabeth Bassine. His oratorio, Remember Warsaw, was recently premiered by the Oratorio Society of Minnesota, and conducted by Matthew Mehaney. Other recent work: Requiem For Our Time, by the Boston Pro Musica, (for which he received the Pulitzer nomination), Ancient Songs Of The Universe, by the Long Island Masterworks Chorus, and A Man's Worth, and Recollections, two one act operas commissioned by the Colorado Springs Conservatory.
Currently Ames is Resident Artist at New Dramatists, NYC, Resident Composer at Central City Opera in Colorado, and Composer in Residence at Great Neck North High School, near NYC.
His new musical, How Green Was My Valley, written with Elizabeth Bassine, librettist, had a recent workshop / reading at the Actors Studio, New York City. It is scheduled for a staged concert produced by Central City Opera, The Chamber Orchestra of the Springs, and the Colorado Springs Conservatory, August 14 and 15, 2014.
Ames has studied composition with Samuel Barber, Carlysle Floyd, John Kander, Robert Washburn, conducting with Brock McElheran, Lukas Foss, Robert Shaw, and voice with Robert Reinert, Elizabeth Vrenios and Michael Trimble. He completed his undergraduate degree at the Crane School of Music, State University of New York at Potsdam, did graduate work at American University, where he joined the faculty, The Hartt School of Music, where he became Chair of Musical Theater, and then completed his Masters degree in Composition at Queens College, CUNY.
He has taught students of all ages throughout his life, in both Europe and America. He has been a consultant for Opera America, and does professional development for teachers in music, social studies, and language arts for that organization and numerous opera companies. He co-authored "Music! Words! Opera!" recently published by GIA Publications, Chicago – a textbook series for teachers, and his music is published by Hinshaw Music and GIA, where he has over 20 octavos available to the public.
Choral Director Approved
We are choir directors, we get choir directors. 
Church Choir Friendly
Your choir will love our music!
Updated Catalog
We update our catalog twice a year!